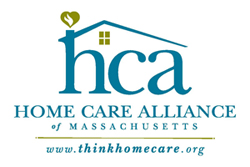 In 2004, Ansaphone was honored with the selection by the 
Home Care Alliance of Massachusetts
 as their preferred vendor for telephone answering service. Since then, 
our client roster
 has grown to include more than 30 member agencies, as well as agencies in Rhode Island, Connecticut, Texas and Missouri.
The Home Care and Hospice industry continues to grow and change through population growth, agency mergers, addition of services, and increasing regulations; and the needs of each agency continue to evolve. Through our ongoing conversations with our clients, Ansaphone has developed individualized services and solutions to meet these changes, and we are now in a position to better understand the unique needs of the home health care and hospice industries.
Our Solutions
To ensure each agency has the opportunity to customize their instructions, we developed a template that lists common call types and allows for instructions to change based on:
the type of service the client is receiving
call type
and time of day.
Please feel free to review our Home Health Worksheet.
The time of day component has proved uniquely successful in solving a common industry challenge.

Out sick calls and service cancelations are common call types that can occur at all hours. It is common knowledge and courtesy that an on call person can do little with these calls after 11pm. We successfully developed a solution that would automatically change the call out instructions based on Time of Day. A common instruction would be for these calls to be called out from 6am-11pm and held from 11pm-6am daily. This solution has been very well received and prevented on call persons from being woken up in the middle of the night with calls they cannot address until the morning.
HIPAA:

We recognize the impact that HIPAA has had on our clients, and have taken the necessary measures to ensure that we are able to meet your compliance needs as your business associate. We have developed a training program that our staff must complete before handling any calls for Home Health Agencies. Refresher training is provided to all employees every six months
Please review our Ansaphone HIPAA Business Associate Agreement.
Reporting:
The delivery of a detailed message to an on call person is no longer the end of our responsibilities. Our Home Care clients frequently request reports that are as simple as how many calls were received by day and by hour to a break out of calls by type.
Ansaphone Services, Inc., • 1212 Hancock Street, Quincy, MA 02169
800-782-7587 • 617-328-7300
info@ansaphone.com