Medical Specialty & Multispecialty Groups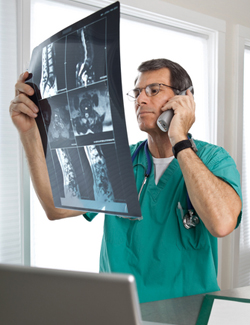 Our staff understands and appreciates the importance of each call, and will follow customized instructions for each type of call or situation. This includes the immediate dispatch of all urgent calls as well as the possibility for our staff to screen calls regarding appointments, prescription refills and referrals that can best be handled by the office staff the next business day.
Database Integration:
Our operation platform allows us to utilize a database of your personnel and their contact numbers and instructions. The database increases the efficiency and accuracy of our dispatching efforts. The database is kept in a simple Excel format for easy updates whenever a change occurs to your staff, a pager number or other contact information.
HIPAA
We recognize the impact that HIPAA has had on our medical clients, and have taken the necessary measures to ensure that our business is in compliance as your business associate. Our management team and entire staff underwent intense training in April 2003, with refresher training planned every six months. We have worked with many of our clients to determine how information is recorded, transmitted, stored and destroyed at our facility. Please review our Ansaphone HIPAA Business Associate Agreement.
Message Delivery
The end of the call is merely the beginning of our service. Our staff will immediately dispatch calls to the correct on call person according to your instructions. We can contact your on call personnel by cell phone – pager – text pager or other wireless device. Your instructions can contain detailed escalation procedures and individual time of day contact instructions.
Reporting
A detailed record of all calls taken and dispatched can be sent by fax or email to one or several locations, and will occur at a scheduled time every day. This report will include the exact time each call was received and delivered to your on call person, as well as a record of all dispatch attempts.
Appointment Setting and Confirmation
With the use of online appointment setting software solutions more prevalent and more affordable than ever, Ansaphone has been able to integrate with these and other on line solutions to continue providing services to patients 24 hours a day. Our staff is also available to make confirmation calls in the evening hours when most patients are at home.
Ansaphone Services, Inc., • 1212 Hancock Street, Quincy, MA 02169
800-782-7587 • 617-328-7300
info@ansaphone.com